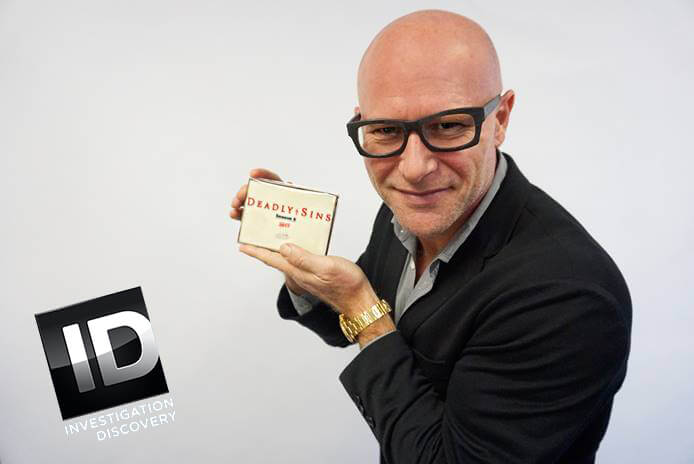 Sweet Deadly Sins Season 6 news announced today! Watch Darren Kavinoky taking a bit of the Chocomize custom Deadly Sins chocolate below.
Founding attorney of 1.800.NoCuffs and The Kavinoky Law Firm, Darren Kavinoky, will be putting his criminal defense skills to work once again for Season 6 of his wildly popular true crime series Deadly Sins on the Investigation Discovery network.
via Marketwired:
"Deadly Sins, the tantalizing true crime show that breaks down crime to its deadly core, has had five sinfully successful seasons and announces today Investigation Discovery's hit show will return for a 6th season. Season 6 promises to be bigger than ever as the show continues to draw audiences and engage viewers around the world. Darren Kavinoky, who made a surprise appearance at the network's 2016 IDCon this summer, will also return to host the series. Deadly Sins season six is expected to air on ID in 2017.
Every episode recreates two ripped-from-the-headlines crimes that highlight the twisted tangled web woven from gluttony, greed, lust, envy, sloth, wrath and pride. ID's Deadly Sins Season 6 will indeed thrill audiences with recounted devilish deeds. The church bells are being polished and host Darren Kavinoky is picking out his suit and tie to bring viewers the deadliest season yet. True evil lurks behind scandalous crimes and Deadly Sins' misbehavior expert serves up the goods with his legendary "two scoops of crazy" quips and commentary." See more: Marketwired. October 26, 2016. Retrieved via http://www.marketwired.com/press-release/investigation-discovery-renews-true-crime-series-deadly-sins-for-season-6-2169759.htm
Known for his frequent appearances as the on-air legal analyst, Kavinoky holds true to his commitment to bring clients of 1.800.NoCuffs facing arrest charges peace of mind.
Watch the "Sweet News" announced by 1.800.NoCuffs Attorney Darren Kavinoky
DUI Attorney Los Angeles
Criminal Defense attorney Darren Kavinoky is the founding attorney of 1.800.NoCuffs. If you need a DUI attorney in Los Angeles, you can see the team at The Kavinoky Law Firm here.

#
SUBSCRIBE TO #1800NOCUFFS