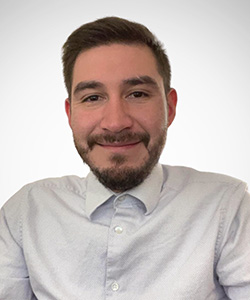 Education: Attended Los Angeles Mission College and received a Paralegal Certification.
Hobbies: Listening to and making music.
Why I Love What I Do: After graduating high school, I went to school to become an audio engineer. After about two years there, just I was getting ready to finish that certificate, the school shut down! Being unsure of the path I wanted to take in life I got a job as a client care specialist at a treatment center in Calabasas to hold me over. While I was doing that, I began studying at Los Angeles Mission College, and found myself in the paralegal certification course. Shortly after I was able to get my first job as a paralegal while still working on my certification. After two years of school, I was successful in getting my certification and after an additional year at my previous firm I decided it was time for a change. My previous firm was in Palmdale where I currently live, and my goal has always been to move back to the San Fernando Valley. I was lucky enough to get a position as a Criminal Defense Paralegal at 1-800-NoCuffs and here we are!