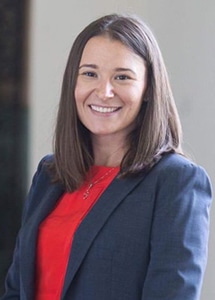 College: Murray State University
Law School: Southern Illinois University School of Law
Admitted to Bar:  2012
Other Certifications: Best Brief Award Intermural Moot Court Competition; Exceptional Achievement Award in White Collar Crime; Staff Member and Articles Editor for Southern Illinois University Law Journal; Publication: Another Tweak to Miranda: The Supreme Court Significantly Limits the Edwards Presumption of Involuntariness in Custodial Interrogation, 36 S. Ill. L.J. 593 (2012).
Hobbies: Reading; Hiking; Cuddling with my 90-pound lap dog; LA Rams football
When I was in the third grade, one of my classmates destroyed something belonging to another student while we were working on a group project. Even though I took no part in that student's actions, I received the same punishment as if I had. Ever since then, I've known that being accused of something is different from being guilty.
Throughout college and law school, I had the honor of working for one of Kentucky's top criminal defense attorneys. I learned firsthand that I could use my voice to advocate for those who find themselves in criminal court and help guide them through a process that is often confusing and emotionally draining. A criminal conviction can have a huge impact on a person's life, so I take to heart my duty to zealously advocate for my clients and ensure that they are treated fairly. I love what I do because every day I get the opportunity to work with clients by assisting them through a challenging situation so that they can move forward with their lives.