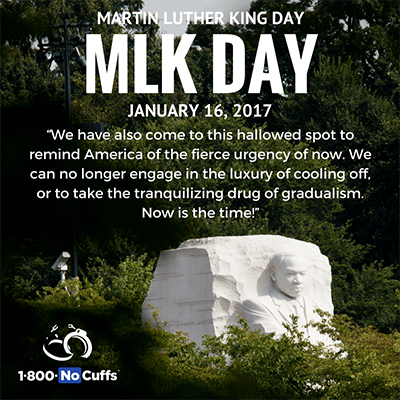 1.800.NoCuffs and founding attorney Darren Kavinoky take a moment to pause and recognize the accomplishments of the great civil rights leader. Martin Luther King's work was not finished when his life was taken from us far too soon. All of the attorneys, paralegals, marketing team and office staff at the law firm join together today to admire the example set by a man who stands as a pillar of hope.
Perhaps one of King's most famous lines in his "I Have a Dream" speech is one that 1.800.NoCuffs founder and leading criminal defense attorney Darren Kavinoky recites as he closes his keynote speeches.
"We have also come to this hallowed spot to remind America of the fierce urgency of now. We can no longer engage in the luxury of cooling off or to take the tranquilizing drug of gradualism. Now is the time…" said Martin Luther King.
That is a message that Kavinoky wholeheartedly endorses.  The time for change is now.
We hope you will take the time today to honor Martin Luther King in your own way.  Please share how you are honoring Martin Luther King with us @1800NoCuffs with #MLKDay!
Civil Rights Leader Martin Luther King
Date of Birth: January 15, 1929
Place of birth: Atlanta, Georgia
Date of Death: April 4, 1968
Place of Death: Memphis, Tennessee
#
SUBSCRIBE TO #1800NOCUFFS