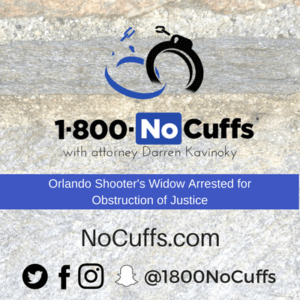 Noor Salman, the widow of Omar Mateen, was arrested for her alleged role in the Orlando nightclub shooting and is charged with obstruction of justice amongst other conspiracy charges.  According to CBS News, Noor Salman was arrested for "aiding and abetting, as well as obstruction of justice," in the horrific massacre that took the lives of 49 people and injured several others. [1]
Founder and leading criminal defense attorney Darren Kavinoky, explains the charges Noor Salman faces. "There are many theories for people to face criminal prosecution for assisting others in preparing for, carrying out, or helping after a crime has been committed. One of the most common ways criminal prosecutors widen the net is by alleging a conspiracy, which is simply two or more people agreeing to commit a crime and taking some step to carry it out. Once the conspiracy is established, all of the co-conspirators can become liable for acts of the other co-conspirators," says criminal defense lawyer Darren Kavinoky.
"Here, in the worst mass shooting (thus far) in American history, Noor Salman, the widow of Omar Mateen, faces charges of aiding and abetting her husband, since there is reportedly evidence that she assisted in the planning and preparation of the crime beforehand, texted encouraging messages to her husband during the attack, and then allegedly obstructed justice by attempting to mislead FBI and other law enforcement investigators after the fact," says Kavinoky.
Kavinoky adds, "This is a fast-breaking story, but depending upon how the government chooses to prosecute Salman, she could be facing the ultimate punishment."
Orlando Shooting Crime Timeline
SOURCES
1. Staff. January 16, 2017. CBS.com "Noor Salman, widow of Orlando massacre shooter Omar Mateen, arrested in San Francisco." Retrieved via http://www.cbsnews.com/news/noor-salman-wife-of-orlando-massacre-shooter-omar-mateen-arrested-san-francisco/.
#
SUBSCRIBE TO #1800NOCUFFS