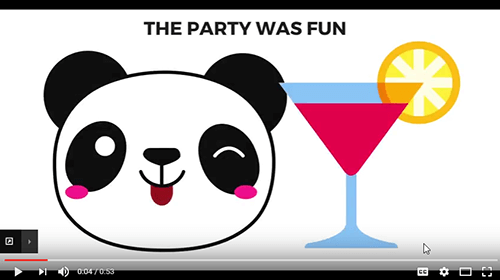 See how strong your California DUI legal knowledge is with this 1.800.NoCuffs quiz. Here are five questions that take you through DUI arrest, blood and breath testing, and license suspension with DMV. Do you know your rights? Do you know what is legal and is not legal?
What you don't know about drinking and driving could lead to you being arrested, so stay informed! Call 1.800.NoCuffs. Because no one looks good in handcuffs, unless you are into that sort of thing.
Have you see 10 Day DUI Aftermath Includes Denial Dance video?

DUI Aftermath Includes Denial Dance is brought to you by 1.800.NoCuffs and The Kavinoky Law Firm. Have you been arrested for DUI in California? How did you spend the next day days post arrest?
If you have been arrested in California and charged with Driving Under the Influence, you may be facing a criminal record, paying significant fines, and jail. Another significant consequence of a DUI arrest is losing your driver's license. Even if you win your court case and are found not guilty of a DUI, you may have already lost your license as a result of the DMV's administrative license suspension procedure.
Administrative per se (APS) hearings are not automatic. If you want a chance to fight to keep your license, you have to formally request a DMV APS hearing within 10 days after your arrest. You may have to look closely at your temporary license, which is the paper the police hands you after taking away your license in order to figure out how to go about requesting a hearing.
Of course, the easiest way to deal with a DMV hearing is to contact a criminal defense lawyer with experience in fighting DUIs as soon as you can so that he/she can file the hearing request. An experienced attorney knows how to quickly file a hearing request, who to contact, and what the complex procedures of an APS hearing entail. Another benefit is that your lawyer will be able to represent you in both the APS hearing so you can keep your license, and before the criminal proceedings, so you can keep a DUI conviction off your record.
For more information please visit:
http://www.twitter.com/1800NoCuffs
http://www.facebook.com/NoCuffs
http://www.instagram.com/1800NoCuffs
For more information on 1.800.NoCuffs founding attorney Darren Kavinoky, please visit:
https://www.darrenkavinoky.com
http://www.twitter.com/DarrenKavinoky
http://www.facebook.com/DarrenKavinokyFanPage
DUI Attorney Los Angeles
Criminal Defense attorney Darren Kavinoky is the founding attorney of 1.800.NoCuffs. If you need a DUI attorney in Los Angeles, you can see the team at The Kavinoky Law Firm here.